Websites can be too long to type in for your students–so there comes a time to have a URL shortening service.  Several easy to use websites are listed below to make your life and URL's more manageable.
Bit.ly — shortens, shares and tracks your links.  Sign up and you can paste any complicated URL into Bit.ly and it will shorten it for you, save it in your account history.  I small bookmarklet can be added to your browser to access Bit.ly without copying and pasting a URL.
Another similar website is TinyURL. Posting long URL's anywhere, email, on websites, etc.  will be easier with this website.  A button can also be added to your browser toolbar so you can create a TinyURL for the page you are currently at.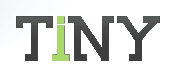 TiNY:  Another site to shorten a long URL.  It makes a URL much easier to memorize or where space is limited such as text messages, chat (instant messaging) or email signatures, shorten YouTube addresses, etc.  Sharing addresses through email and not having to worry about the links wrapping or breaking.